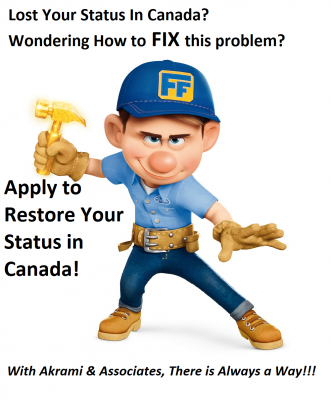 What is "Restoration of Status?"
Restoration of status is a fancy term for the process an individual who wishes to change or extend the terms of their temporary stay in Canada, necessarily goes through. As a temporary visitor to Canada, you only have legal status in Canada to stay for a designated period of time, therefore, if you decide you would like to stay longer to study or work, you must apply to extend your permit before the permit expires. If you fail to apply for a new permit before yours expires, you will not be on implied status, and rather, you will now have to apply for a restoration of status. A restoration of status is needed by any individual who allows their permit to expire before submitting a new application, but still would like to remain in Canada. If this is the case for you, I will be breaking down how to go about applying to restore your status in Canada, and successfully obtain a new valid temporary permit which will allow you to remain in Canada.
Who Needs to Apply for Restoration of Status?
The most important criteria to meet before applying for a restoration of status, to ensure you are even required to restore your status, is that you have allowed your temporary visa allowing you to be in Canada, to expire. Similar to this, you could also find yourself eligible to apply for restoration of status as the result of failing to abide by the conditions of your work or study permit. Specifically, you must have violated the condition to only work for the employer listed on your work permit, or, because you changed your program of study or educational institute from the one which is listed as a condition on your study permit. If you do either of these things and consequently have your study permit revoked, you can apply to restore your status on the new conditions of your permit. Though, it is important you did not violate any other conditions of your temporary permit. Next, it is equally important this permit has expired less than 90 days before you submit your application to restore your status. If it has been longer than 90 days, you are unfortunately ineligible. Finally, as mentioned, you must have complied well with the conditions on the original permit. Failure to have done so would also result in having your application to restore your status refused.