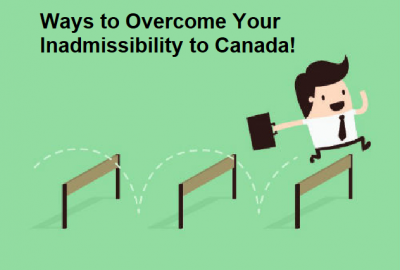 How to Overcome Inadmissibility to Canada
There are a variety of situations which can occur, which leave you inadmissible to enter Canada. Unfortunately, it is not uncommon that individuals, who attempt to enter Canada, get denied entry at the border, and they did not even realize they were inadmissible to Canada in the first place. There are even situations where individuals were able to enter Canada in the past even though they were inadmissible, simply because they got lucky and the immigration officer at the border did not realize, and then one day they learn they are inadmissible to Canada for one reason or another and should never expect to get lucky and be able to enter Canada. This happens for a variety of reasons but surprisingly, it is very uncommon individuals are aware of all the reasons one could find themself inadmissible. For your convenience, follow this link to learn the various reasons you could earn the status of "inadmissible to Canada," and avoid any unpleasant surprises at the border one day. If you think any of these reasons for being inadmissible could apply to you, keep reading to learn about the various procedures you may need to undertake, to rectify your status as inadmissible to Canada, and once again be permitted to enter the country.
Ways to get back into Canada
There are various ways individuals can choose to overcome their inadmissibility. Ultimately though, the route you chose to take is dependent on your circumstances to some degree. For example, if you are criminally inadmissible to Canada, you have the options of getting a temporary resident permit, or apply for criminal rehabilitation. Or, alternatively, if you are inadmissible to Canada as the result of a removal order, then you will require an authorization to return to Canada.