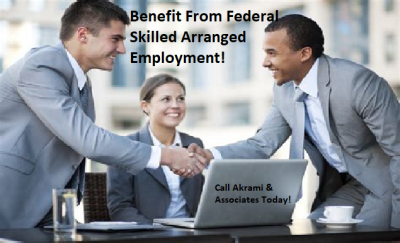 What is Federal Skilled Arranged Employment?
If you're thinking of looking for work in Canada, you're probably somewhat aware that most ways to apply for a work permit in Canada require you to have a job offer from an interested employer, before you can be granted a work permit. This is because many of the work permits foreign nationals have permission to work in Canada with are closed work permits. The Federal Skilled Arranged Employment program is one which helps Canadian employers hire qualified, skilled foreign nationals to help with their company in Canada. The workers that are hired are working for the employer who applied for an Labor Market Impact Assessment, and brought them to Canada. In other words, individuals working in Canada as the result of Federal skilled arranged employment are working on a closed work permit. So, if you're a foreign national with skills the Canadian labor market would benefit from and you would like to work in Canada, keep reading to learn more about how the federal skilled arranged employment program works!
The Federal Skilled Worker Program
It is possible to hire a foreign national for a permanent position, and bring them to Canada as permanent residents because of the Federal Skilled Worker Program (FSWP). The Federal Skilled Worker Program is set out to help Canadian employers acquire skilled workers permanently, in areas which Canadian nationals are not filling all the positions which are in demand. Through this program, individuals can be recruited for positions which qualify as Skill Type 0 (managerial occupations) or Skill Level A (professional occupations) or Skill Level B (technical occupations and skilled trades) on the Canadian National Occupational Classification (NOC) list.