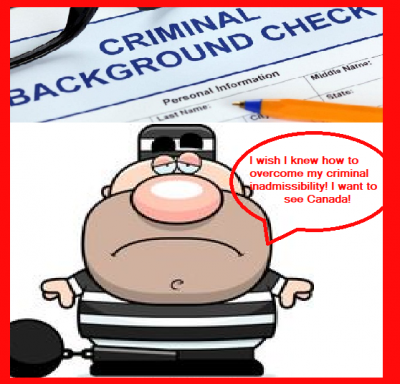 What Is Criminal Inadmissibility?
Have you ever been convicted of a crime? Are you thinking about travelling to Canada? First, you may want to go over your situation to determine whether or not you are considered "criminally inadmissible." Criminally inadmissible is a term used to describe any individual who has been convicted of an offence which would be considered a crime under the Canadian Criminal Code. In other words, if you would have been charged with a crime for doing the same things you did in your country of origin, while in Canada, you are criminally inadmissible to travel to Canada. There are a variety of reasons you may be considered criminally inadmissible. This includes anything considered an offence in the Canadian Criminal Code, such as being convicted of driving under the influence and dangerous driving, all the way to assault and manslaughter. If this sounds like the situation facing you, you'll definitely want to carefully consider how your criminal record or any offences you have committed, will affect your admissibility to Canada.
Who Is Considered Criminally Inadmissible To Enter Canada?
As mentioned, anyone who would have been convicted of a criminal offence under the Criminal Code of Canada is criminally inadmissible to enter Canada. It is important to understand that you do not have to have a criminal record in your home country, to be considered criminally inadmissible to Canada. Even though it is usually the case that those who would have a criminal record in Canada also have a record in their country of origin, this is not always the case. One example could be if you are pardoned by the courts in your country of origin, and you effectively have no criminal record. Even if this is the case, if the Canadian courts would not have pardoned your actions, then Canadian border officials will still treat you as if you have a criminal record and you will be criminally inadmissible to enter Canada. A much more common example occurs with citizens of the United States. In the USA, driving under the influence (DUI) is not always pursued as a serious offence. At the same time, driving under the influence is not taken lightly by Canadian courts at all. This is an example of a case in which you may be led to believe your offense is minor and you should be able to enter Canada as a deemed rehabilitated citizen after a 5 year period, rather than a 10 year period. Though, under the Canadian Criminal Code, the offense may not be considered minor, and you may be treated as if you committed a serious offence. The important thing to understand is that your criminal record in your country of origin is not directly transferrable to Canada. Your criminal record from your country of origin is essentially translated to reflect what your record would look like in Canada.