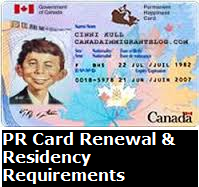 What is a Canadian Permanent Resident Card (PR)
The Canadian Permanent Resident Card is wallet sized card that can be shown as official proof that you are Permanent Resident of Canada. The card contains information such as eye colour, height, gender, date of birth etc. The card also contains your picture that is engraved with your signature. If you travelled outside of Canada and like to re-enter Canada through plane, bus, train or boat you are required to show your PR card before boarding. If you don't have a PR card or have lost your PR card and are outside of Canada you need to apply for a Temporary Travel Document from the nearest Canadian immigration visa office to be able to travel or re-enter into Canada.
I applied for PR card how will I receive my permanent resident card?
If you applied for permanent resident card you will receive your card through mail within 64 days. If you renewed your card or reapplied for one the processing time is approximately 81 days.
Temporary Travel Document
If you are permanent resident of Canada and are stuck outside of the country and you don't have a PR card you may be eligible to apply for a travel document at the nearest Canadian Immigration Visa Office. The immigration officer will review the documents you have submitted and will confirm that you actually once were a permanent resident of Canada and have met the residency requirements. Once approved you are issued a travel document and can travel back to Canada. If you are travelling by car to the Canadian Port of Entry aside from a commercial carrier then you do not require a travel document or a PR card to re-enter into Canada.
Can I enter back into Canada if I don't meet residency obligations?
If you have been outside of Canada for a while of whatever your reason may be such as you could not find a job in Canada, family emergency, opened up a business abroad, leisure etc. You could possibly lose permanent resident status for not meeting residency requirements. You must meet two years out of the five continuously to meet your residency requirements. You can either be inside of Canada or outside depending on the situation. To meet the residency requirements either be physically present inside of Canada or accompany your spouse/common-law partner who is a Canadian citizen. Children also need to be accompanied by their parents who are Canadian citizens. You can also meet your residency requirements if you are outside of Canada and are employed on full-time with a Canadian company or Public Service of Canada.
How to Renew my PR Card?
When applying for PR card you should keep your old card until you get your new PR card. If you card is damaged and like to replace you should send your damaged card with your application. Sometimes you may be called to the Canadian Immigration office, during this time you must bring your old card and your original documents of the copies you have send out with your application. Once the immigration officer grants you a new card you will be asked to destroy your old one.
How long is my PR card valid for?
Your PR card is good up to a period of five years and has to be renewed until you decide to apply for Canadian citizenship.
My Permanent Resident (PR) Card has a mistake on it
If you have received your PR card and you notice a mistake on your card such incorrect spelling of your name, date of birth is wrong, not your pictures on the card or anything else it might be you can apply for a reissued permanent resident card if the error was made by citizenship and immigration Canada (CIC). If you have a name that has over 15 letters CIC shortens the name as there is not enough space on the card. So you do not need to reissue a change if you have a over 15 digit name.
How can I check my PR card application status?
You are able to check the status of your PR card application once citizenship and immigration Canada sends you a confirmation letter that they have received your application. CIC sends confirmation either through email, mail, fax etc. Upon receiving the confirmation letter from CIC on the letter there will be a file number or UCI number assigned to your application. That UCI number can be used to access your file from citizenship and immigration Canada website to check updates on your application. CIC received over 1000 of applications every day and it is possible sometimes for them to misplace an application or lose it. Therefore, you need to have copies of all the documents you have sent off to CIC such as copy of your application, your receipt of payment made, any letter or document given by CIC.
Contact Akrami and Associates
If you need assistance with renewing a PR card or find yourself not meeting residency requirements and are unsure on how you can re-enter Canada then contact our office at 416-477-2545 so we can determine your options available.